Leading Technology in Ethernet Relays, Data Acquisition, and Remote Monitoring
ControlByWeb Ethernet I/O products are designed to be extremely reliable for web control and monitoring of electrical devices. They feature a variety of I/O products, such as the original WebRelay™ which is a web-controlled relay with a digital input that was developed back in 2005. Since then, ControlByWeb have been making top-of-the-line products for industrial automation, data collection, and monitoring.
Many of their products include various inputs and outputs such as relays, digital inputs, analog inputs, 1-Wire bus for monitoring temperature & humidity, etc. that can be used with their built-in software to remote control/monitor electrical devices. Most of their I/O products support email notifications, scheduling, logging, BASIC interpreter, communication with a variety of protocols (Modbus, SMNP, SMTP, etc.), and many more features.
All ControlByWeb products have built-in web servers and can be setup, monitored, and controlled using a web browser. In addition, their products can be monitored and controlled using custom computer applications as well as their CBW Mobile app for all smart phones and tablets. And there is no special software required, no drivers to install, and no monthly subscription.
How To Use ControlByWeb™ Products
Simple Stand-Alone Device
A single ControlByWeb device can operate on its own as long as it has an IP network for communication. Data can easily be accessed on a local network or via the Internet. Ideal for remotely monitoring a single site or multiple facilities.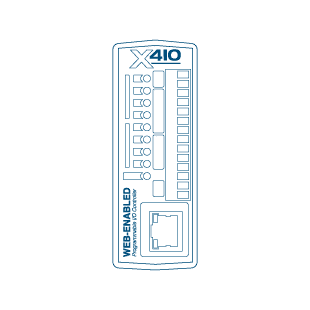 Integrated in Control Systems
Integrate ControlByWeb devices throughout your advanced control system using Modbus TCP/IP, SMTP, SNMP V1/2C/V3, XML, JSON, HTTP, HTTPS, and SSL. ControlByWeb devices act as an RTU in industrial control systems.
Create a fully functional control system using ControlByWeb I/O devices and sensors. X-400 and X-600M with expandable I/O and programmable logic are ideal for a control system you can monitor & control locally or remotely.
ControlByWeb® I/O devices and sensors are used in industries and applications of all shapes and sizes throughout the world. Here are some application examples…
Modular, web-enabled, industrial I/O controllers that allows you to add various combinations of I/O to tailor it to your specific application. Expansion modules can either be directly connected to the X-400/X-600 through the expansion bus, or you can connect remote ControlByWeb devices through an Ethernet network, including the Internet.
Expansion modules are used with an X-400 or X-600 controller. One or more expansion modules can be connected to a control module with a ribbon cable. The ribbon cable provides both power and communications to this and other expansion modules.
The X-400 or X-600 with its expansion modules provides an easy, flexible, and reliable way to monitor and control systems and devices over a network.
Stand-Alone Ethernet I/O products
All Stand-Alone Ethernet I/O products products have built-in web servers and can be setup, monitored, and controlled using a web browser. In addition, these products can be monitored and controlled using custom computer applications as well as CBW Mobile app for all smart phones and tablets.
Many of Stand-Alone Series devices are also available with PoE support.
ControlByWeb – Etäohjaus ja etämonitorointi
ControlByWeb verkkopohjaiset I/O ohjaimet ja kontrollerit ovat erittäin luotettavia "drop-in" ratkaisuja etäohjaukseen ja -monitorointiin. Ensimmäinen tuote on jo vuodelta 2005 eli WebRelay™, joka on verkko-ohjattu rele sisältäen myös digitaalisen tulon. ControlByWeb on sittemmin valmistanut laajan valikoiman tuotteita teollisuuden automaatioon, tiedonkeruuseen ja seurantaan.
Monet heidän tuotteistaan ​​sisältävät erilaisia ​​tuloja ja lähtöjä (relelähtöjä, digitaalisia ja analogisia tuloja, 1-johdinväylän (1-Wire) lämpötilan ja kosteuden seurantaan jne.), joita voidaan käyttää elektronisten laitteiden kaukoohjaukseen ja -valvontaan. Suurin osa heidän I/O-tuotteistaan ​​tukee sähköposti-ilmoituksia, toimintojen ajoituksia, tallennusta, useita protokollia (Modbus, SMNP, SMTP …) ja monia muita ominaisuuksia.
Kaikissa ControlByWeb-tuotteissa on sisäänrakennetut verkkopalvelimet, jolloin niitä voidaan konfiguroida, monitoroida ja hallita verkkoselaimella tai CBW-mobiilisovelluksella. Ne toimivat kuten standardi RTU (Remote Terminal Unit), joten ne on myös helppo integroida olemassa olevaan prosessiohjaus-järjestelmään. Kummassakaan tapauksessa ei tarvita erityistä ohjelmistoa, ei ajureita asennettavaksi eikä muita ylimääräisiä veloituksellisia palveluita.
ControlByWeb-pilvipalvelu helpottaa tietojen käyttöä ja laitteiden hallintaa.
Helmikuussa 2021 julkaistu ControlByWeb-pilvipalvelu tekee etävalvonnasta ja usean sijainnin hallinnasta helpompaa kuin koskaan. ControlByWeb-pilviyhteensopivien laitteiden avulla voit seurata ja ohjata melkein mitä tahansa, kuten ravintolan kylmälaitteita, etäreleitä tai generaattorin polttoainesäiliöitä.
ControlByWeb-pilvipalvelu tekee luonnostaan joustavasta I/O-alustasta entistäkin helpomman käytettävän ja hyödyllisemmän kuin koskaan ennen. Pilvipalvelun käytön veloitus pohjautuu palvelun piirissä olevien laitteiden määristä, ei I/O-pisteiden (endpoint) määristä.